Security Equipment
Bike Rack Barriers
Our most popular event security equipment, Rock Solid Security offers six foot and eight foot piece bike rack barriers. These are metal bars that can be linked together to form a separate area for VIP guests or can be used to cordon off an entire area for your event. We also offer delivery and setup upon request.
Stage Blow–through Barricades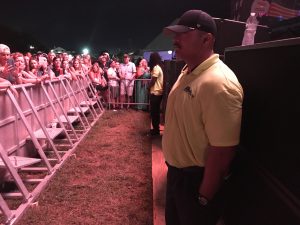 Our large metal barricades are popular at events and concerts where safety is a strong concern. They are commonly used to create space and prevent fans, patrons, and the general public from getting too close to stages and performers. Delivery and setup is also offered upon request.
Road Closures
Rock Solid Security also offers road closure services that can include security vehicles, signage, guards, and reflective barricades to close lanes and redirect traffic to designated areas.